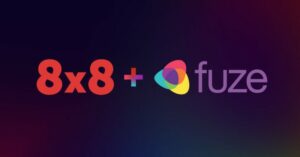 Deal Accelerates 8×8 XCaaS Innovation and Global Enterprise Momentum for Integrated Cloud Communications and Contact Center Solution
An exciting day for cloud communications.
On January 18, 2022, 8×8 announced that it has completed its acquisition of Fuze, a leader in cloud-based communications for the enterprise. The acquisition accelerates 8×8 XCaaS™ (eXperience Communications as a Service™) innovation, and expands 8×8's enterprise customer base and global presence
The acquisition will deliver strong value to customers, employees, partners and stakeholders by:
Accelerating the XCaaS platform advantage with dramatically increased resources for research and development, engineering and support.
Supporting Fuze customers on the Fuze platform, and offering the best of both platforms to all customers.
Expanding the enterprise customer base and global presence, especially in continental Europe.
Providing significant cross-sell opportunities with 8×8's omnichannel contact center and CPaaS capabilities to support enterprise customer engagement efforts.